we are
Cellworks is a multi-productive team of designers and programmers. Our services are mainly targeted at advertising companies who specialize in below the line projects, publishing houses, tourist organisations and companies who retail our products and services.

At our central studio in Athens we offer creative services and develop content websites, e-shops, off + online applications for a wide range of devices (tv, desktop, tablet, smartphone).

We work and think globally.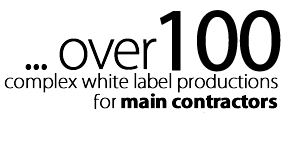 We work with
Adobe Flash, Adobe Director
HTML, XML, XSL, JavaScript, PHP, CSS, CMS experience, Actionscript, SQL + MySQL

Adobe Photoshop, Adobe Illustrator,
Adobe Fireworks, Adobe Flash


Adobe Premiere
Adobe Software Encoder
APPLE Final Cut Studio
MPEG2, SD2000 Pinnacle Broadcast quality
TBC - Time Base Corrector FOR.A FA-370

SONY RDR-GX360
SONY UVW 1200P BETA CAM SP

SONY J30 DIGITAL BETA

JVC DV CAM BR-DV3000

PANASONIC DVC PRO50 AJ-SD93

DATA VIDEO DAC2 YUV to IEEE1934 CONVERTER




APPLE Soundtrack Pro
Pro Tools APPLE Mac OSX Intel Dual Xeon 2.66 GHz




Green Box 30m²

2x HVX 200AG PANASONIC DVCPRO HD + monitors ALBIRAL

HiRes and zoom/focus remote on tripods LIBEC with DOLLY

CANON XL-1

GLIDECAM Smooth Shooter 4000 PRO

GLIDECAM CAM CRANE 200

Cosmolight Pantographs • CONTROL ROOM

PANASONIC Mixer/switcher AJ MVX 70
SONY VTR HVR-M15E HD

SONY UVW-1800P

SONY VTR BVW 70P

SONY HDV 1080i

BEHRINGER EURODESK MX8000
4x JVC TM-H150C




Multiple servers around the world


WE PROVIDE
Every modern marketing product presupposes the production of original material for multiple usage in various media. For this reason, we created the necessary infrastructures for exporting in various formats.

…greenbox infrastructure, post-production, printing facility on a 300m² space.

A significant parameter of our work is the national geo-targeting of recepients and whenever financially and technically possible, its internationalization.



…copy and editorial services for print or web in three languages: English, German, Chinese.

.